When many of us think of aging, we think about the development of wrinkles and the onset of dull skin. One aspect of aging that most people do not think about is eyelash loss. A condition called hypotrichosis is a form of abnormal hair loss that can affect the appearance of eyelashes. This condition often causes individuals to suffer the embarrassment of going through life without a full set of lashes.
Latisse® is the only FDA-approved product that increases the length, thickness, and dark color of eyelashes.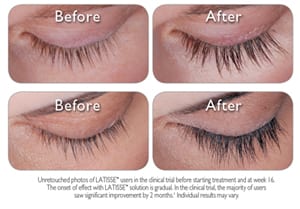 CANDIDATES
Ideal candidates for Latisse® are in good overall health and have realistic expectations of the product. Individuals should also have no associated allergies or eye problems while using Latisse®.
USING LATISSE®
Latisse® can safely be administered by the patient in the comfort of their own home
Step 1: Makeup should be taken off and contact lenses removed.
Step 2: Add one drop of Latisse® to the tip of the sterile applicator.
Step 3: Close the eye and use the applicator to apply the solution gently at the base of the eyelashes on the upper eyelid only
Step 4: Discard the applicator and use a new one to repeat steps 2 and 3 for the other eyelid.
OTHER TIPS
Latisse® should never be applied more than once a day
After Latisse® has been applied, contact lenses should not be put back into eyes for at least 15 minutes
Latisse® should NEVER be used on the lower eyelids.
RESULTS, RISKS, AND RESULTS
The process of growing eyelashes takes time, and although it may be difficult to see immediate progress in the thickness of the lashes, most people see a noticeable increase in length after 16 weeks. Although complications are rare, redness, itching, and bacterial infections can occur. To decrease the likelihood of these complications occurring, contact Del Mar Plastic Surgery with any questions or concerns you may have.
AVERAGE COST
The average price of a box of Latisse® is around $120. Each box lasts about four to six weeks and contains a bottle of solution and sterile brush applicators.
INSURANCE
Latisse® is not covered by insurance because it is considered a cosmetic treatment and not medically necessary. However, applying the solution just a couple times a week as opposed to every day can increase the longevity of Latisse®.
At Del Mar Plastic surgery, we strive to get each of our patients the results they desire. If you are interested in improving the length and fullness of your eyelashes, we welcome you to call (858) 215-6143 today.