Breast Implant Removal in San Diego, CA
Committing to breast augmentation can be a life-changing decision, often giving patients the breast size and shape of their dreams. However, as life progresses, so may the patient's expectations for themselves and their self-image.
Some women no longer find satisfaction with their breast implants after a successful breast augmentation while others wish to keep their augmented shape but find discomfort with the way their breast implants have deteriorated over the years. And while some women want to keep their implants, others desire to have their breast implants entirely removed without replacement.
Dr. Pollack is committed to serving patients with breast implant removal no matter your circumstance, completely eradicating irregularities from previous procedures while restoring the breasts to their vibrant beauty and health.
---
Why Would I Choose to Remove My Breast Implants?
Dr. Pollack's years of connecting and caring for patients on a personal level informs his nuanced understanding of the many reasons why women may want to remove their breast implants.
By paying careful attention to these reasons, Dr. Pollack can accurately provide you with tailored techniques and high-quality care for breast health and beauty. Discover below the reasons some women may consider breast implant removal.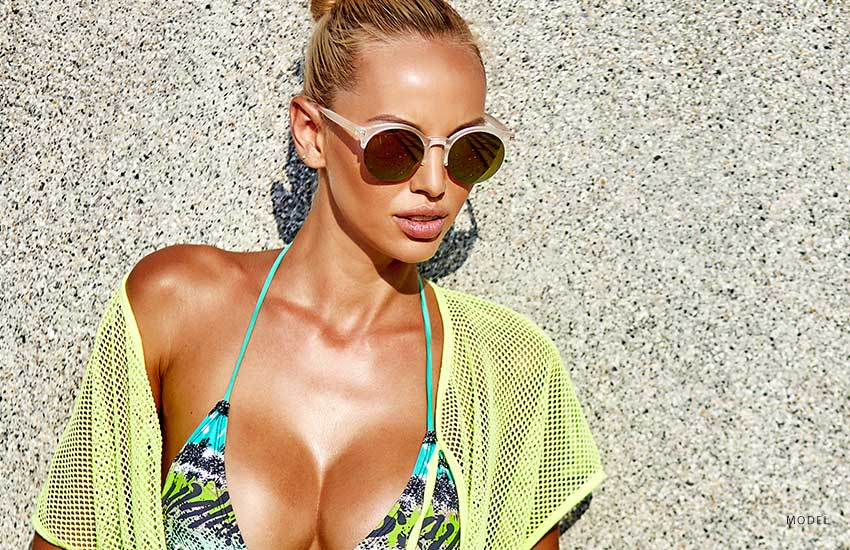 Unhappiness With Breast Implants
Your initial surgery may not have realized the vision you had in mind for breast implants, leaving you dissatisfied and disappointed with the size, shape, material, or overall results. At Del Mar Plastic Surgery, we cooperatively create detailed-oriented plans for breast implant removal and revision with our patients.
Breast Implant Positioning
At some point, physical activity, exercise, or unexpected interactions may cause the breast implant to shift out of proper positioning. Misplacement of the implant from the breast pocket may cause asymmetry, abnormal appearances, and possibly discomfort.
Capsular Contracture
Capsular contracture occurs when the tissue shell that naturally forms around your implants tightens and causes hardness, discomfort, and aesthetic distortion. Deformities occur due to scar tissue formation and require the removal of the implant and the responsible scar tissue.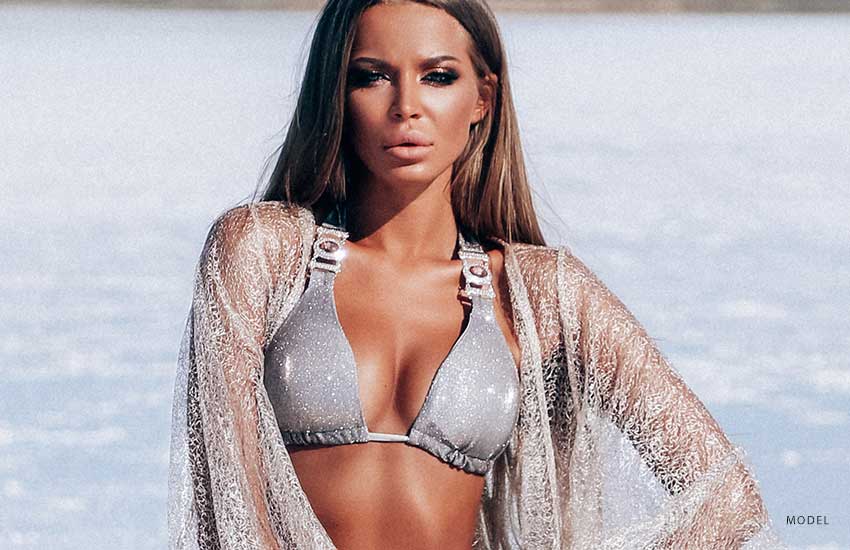 Breast Implant Rupture
Breast implant rupture occurs when the implant shell weakens and tears, allowing the inner contents to escape into the breast pocket and body. While the inner material of saline implants will be absorbed by the body, the inner gel of silicone implants will not. Patients with silicone implants should undergo routine MRIs or ultrasounds to verify the health of their implant since silicone ruptures are not always easy to identify.
Breast Implant Illness (BII)
Breast implant illness (BII) is a self-diagnosed condition that some women have claimed resulted from their breast implants. Commonly associated symptoms include joint pain, headaches, brain fog, muscle weakness, and feelings of anxiety. While these symptoms are worrisome, there is no scientific evidence linking these to breast implants, and BII is not an official medical diagnosis.
Breast Implant-Associated Anaplastic Large-Cell Lymphoma (BIA-ALCL)
Breast implant-associated anaplastic large-cell lymphoma (BIA-ALCL) is a rare form of lymphatic cancer that may develop in the scar tissue that surrounds the implant. Very few cases have been reported in relation to the number of women with augmented breasts, and this condition is only associated with Allergan™ BIOCELL® textured implants. It is important to note that this is not breast cancer, and breast implants have no correlation with a heightened risk of breast cancer.
---
What Are My Breast Implant Removal Options?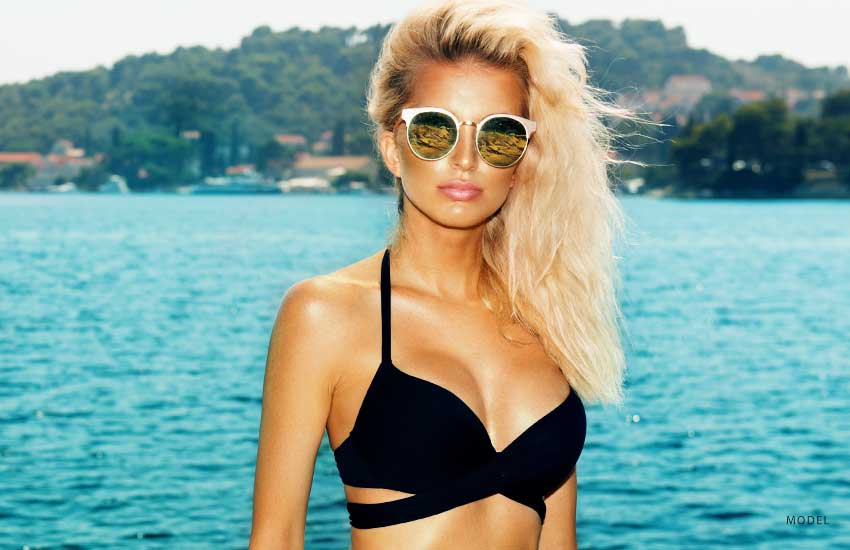 Capsulectomy
Capsulectomy is the surgical removal of a scar tissue capsule that has hardened around a breast implant. This occurs due to the body's immune response to foreign objects in the body, and formations of capsules are normal.
En bloc capsulectomy
En bloc capsulectomy is a variation of capsulectomy that delicately removes the entire scar tissue capsule and implant simultaneously in one piece. This technique is beneficial for patients who are experiencing complications such as capsular contracture or implant rupture because it ensures that nothing is left behind in the breast pocket. En bloc capsulectomy often requires a longer incision than other implant removal techniques since the capsule and implant are removed together.  This technique is not new by any means, and is usually the method performed by board-certified plastic surgeons.
Removal With Lift
After the removal of an implant, some women may develop sagging due to the breast tissue or muscle having been stretched from a smaller to a larger size. With the addition of a breast lift after removal, strength is restored to the breast tissue to reverse premature sagging and restore a higher-sitting, perkier bust.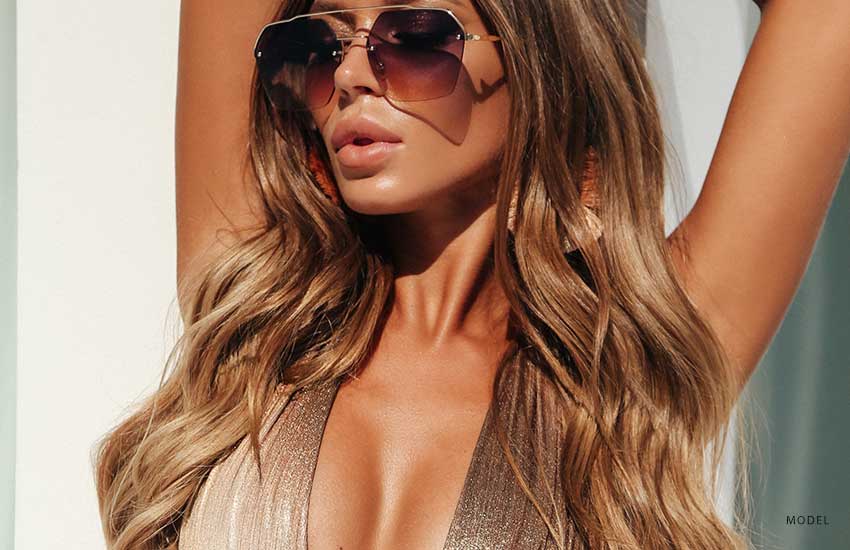 Removal With Lift and Fat Grafting
Fat grafting can be utilized to more accurately sculpt and contour the breasts in an elegant and flattering fashion. This procedure can lift, reshape, and add volume to your breasts once the implants are removed. This technique can also be done with fat grafting only.
Removal With Breast Implant Replacement
Replacement implants may be inserted after implant removal to obtain your ideal breast size, shape, material, proportions, and functionality. This is used for women who wish to keep their augmented size following a complication or change in aesthetic preference. Dr. Pollack provides replacements that meet exceptionally high standards in quality.
---
Want to Learn More About Breast Implant Removal?
If you are interested in learning more about breast implant removal or would like to schedule your consultation, contact us today by calling (858) 450-9100 or by filling out our online contact form. Dr. Pollack performs breast enhancement for patients in San Diego, California, and the greater San Diego area.
---
Frequently Asked Questions
Am I a candidate for breast implant removal?
Candidates for breast implant removal are healthy non-smokers who have realistic expectations for their results. Breast implant removal is appropriate for women experiencing implant-related complications or women who no longer want their implants (whether it is implants in general or the specific implants they have).
Will I need a breast lift if I choose not to replace my implant?
While many women find a breast lift beneficial when undergoing permanent implant removal, it is not always a requirement. Women with smaller implants or women who had their implants for a short amount of time may experience positive results without a breast lift. Dr. Pollack will recommend the procedure/s that will best suit you during your consultation.
What are the risks associated with breast implant removal?
Breast implant removal comes with a low chance of complications; however, risks are still present. These risks include:
Adverse reactions to anesthesia
Bleeding
Infection
Blood clots
Fluid accumulation
Skin loss
Changes in skin/nipple sensation
Breast asymmetry
Unfavorable scarring
Can breast implants increase my cancer risk?
While breast implants are indirectly linked to BIA-ALCL, breast implants are not linked to breast cancer, and removing your implants will not lessen your breast cancer risk.
Will I have scars?
Scars will be present at your incision sites. If Dr. Pollack uses your initial breast augmentation incision, there will be little, if any, change to the scar that you previously had. The scar along the breast crease may be longer, but you may not notice a significant difference. All scars will fade with time.