HydraFacial® in San Diego
Developing aging signs is a part of life many of us dread. While wrinkles, fine lines, and hyperpigmentation are all signs of aging, a lack of skin hydration is often the root of the problem. Unfortunately, it can be impossible to eliminate wrinkles and lines if your facial skin is dried out.
Hydration is a critical component of any good skin care routine, and at-home products are not always enough to achieve it. It can be frustrating when your efforts do not yield your desired results.
HydraFacial® treatment is available to help patients improve their overall skin texture, tone, and appearance.
---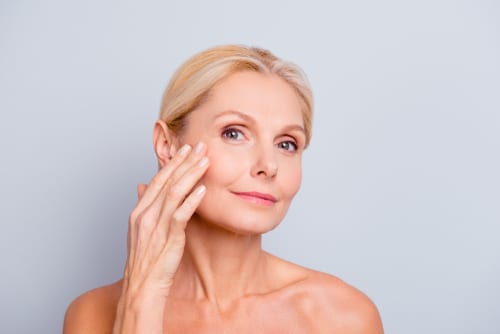 What Is a HydraFacial®?
A HydraFacial® is a multi-step skin care treatment used to cleanse, exfoliate, hydrate, and rejuvenate facial skin. After this treatment, you can enjoy refreshed, hydrated skin.
Who Is a HydraFacial® Good For?
The HydraFacial® can be beneficial for anyone experiencing dry, sun-damaged skin. Dry skin can cause itching, irritation, and redness. Additionally, people suffering from dry, flaky skin may notice it makes their makeup go on unevenly.
Since the HydraFacial® is a gentle treatment, almost everyone can benefit from it. It is extremely versatile and can be performed on all skin types. For people with sensitive skin, this treatment is an excellent alternative to harsh chemical peels.
What Can a HydraFacial® Achieve?
The HydraFacial® treatment works to clear the buildup of dead skin cells and nourish, protect, and hydrate the skin. This creates a more even skin texture and tone for a radiant complexion.
A HydraFacial® can:
Reduce fine lines and wrinkles
Increase skin firmness and elasticity
Brighten dull skin
Reduce hyperpigmentation (dark spots)
Hydrate dry, flaky skin
Tighten enlarged pores
Clear congested skin
Reduce oiliness
Schedule a consultation to see if this facial treatment is right for your skin concerns.
How Much Is a HydraFacial® in San Diego?
Your HydraFacial® cost will depend on the amount of correction needed, how long your facial takes, and the number of sessions you undergo. We also offer the Platinum HydraFacial® for further facial rejuvenation at an additional cost.
Dr. Larry Pollack's office will go over HydraFacial® price information with you at your first appointment.
How Is a HydraFacial® Performed?
Step 1: Cleansing and Exfoliation
The first step is cleansing of the skin. The HydraFacial® device will gently remove dirt, dead skin cells, excess oil, and other impurities from your skin. A peel is also used to exfoliate and resurface your outer skin layers, leaving behind fresh, clean skin.
Step 2: Extraction and Hydration
Next, a serum consisting of salicylic acid and glycolic acid will be applied to the skin. This serum will help break up deeper dirt and debris that may be clogging your pores and causing your acne breakouts.
The HydraFacial® tip uses a spiral design and patented vacuum technology to extract impurities from the skin while simultaneously nourishing the skin with intense moisturizers.
Step 3: Nourishment and Protection
Antioxidant and peptide formulas are then applied to hydrate, plump, nourish, and protect the skin.
Platinum HydraFacial®
Del Mar Plastic Surgery offers the Platinum HydraFacial® for patients interested in additional skin care treatment benefits. This treatment uses the same techniques as the above Signature HydraFacial®, but it adds personalized boosters, lymph drainage, and red or blue LED light therapy to further rejuvenate and refresh your skin.
How Long Does a HydraFacial® Take to Perform?
Generally, treatment takes about 30 minutes to complete and can be done on your lunch break.
The length of your HydraFacial® will depend on whether you undergo the Platinum or  Signature treatment. It will also depend on the amount of correction needed.
Is a HydraFacial® Painful?
There is no need for any anesthesia or numbing creams during treatment since you will not feel any pain or discomfort. You may experience the feeling of tugging or pulling on your skin, but it shouldn't hurt.
---
What to Expect After Treatment
What Is the Recovery Like After a HydraFacial®?
Unlike chemical peels and microdermabrasion treatments, one of the main benefits of the HydraFacial® is that there are no side effects of redness or irritation after treatment. No recovery time is needed; you may return to work and other responsibilities immediately after treatment.
When Will I See Results From My HydraFacial®?
After your treatment, you will see immediate results that last for a few weeks to a month. You'll be red-carpet ready as you leave our office.
How Can I Take Care of My Skin After a HydraFacial®?
Taking proper care of your skin is crucial to maintaining your results after treatment. Do not exfoliate the skin for at least 48 hours, and apply sunscreen regularly to prevent future sun damage. Using the recommended medical-grade products will help enhance your results.
How Often Should I Get a HydraFacial®?
Repeat treatments are necessary to further improve and maintain your results. We recommend that patients receive a HydraFacial® every month or so to keep their facial skin fresh and hydrated.
Other Aesthetic Treatments We Offer
Many patients interested in the HydraFacial® can benefit from combining their treatment with other anti-aging skin care options.
Some of the non-surgical treatments we offer include:
Please schedule a consultation to determine your candidacy for any treatments you are interested in. Our licensed aesthetician can help determine the best treatment option(s) for your aesthetic needs.
---
Interested in Learning More About the HydraFacial® in San Diego?
To learn more about the best anti-aging treatments for your concerns, please contact us on our website or call 858-450-9100 .
How Can We Help?
"*" indicates required fields
Interested in Learning More?
Dr. Pollack is certified by the American Board of Plastic Surgery and is dedicated to providing patients with safe and effective procedures. He has over 20 years of experience in the field of plastic surgery and looks forward to meeting you. To schedule a consultation with Dr. Pollack, please call our La Jolla practice at 858-450-9100 today.