Breast Implant Warranties
Breast implant warranties can be difficult to understand. As with all warranties, they contain specific information that breast augmentation patients should know. Here are some of the basic details included in breast implant warranties, as exemplified by the warranties for Mentor® breast implants. Mentor® is Dr. Pollack's main source for breast implants, though he also works with other top manufacturers.
Standard Warranties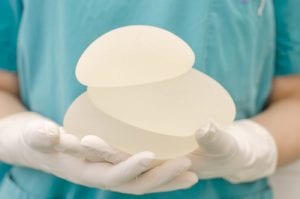 Standard warranties for breast implants usually cover two things: the cost of the implant plus a predetermined amount of financial assistance for any revision surgeries for qualifying cases (usually implant rupture). Like all warranties, they are valid only for a specific time frame. As examples:
Silicone Implants by Mentor®: 10-year warranty on the implant and up to $3,500 of financial assistance to cover out-of-pocket expenses for the operating room, anesthesia, and other surgical charges. The contralateral (opposite side) implant can also be replaced for if requested by the surgeon.
Saline Implants by Mentor®: 10-year warranty on the implant and replacement of the contralateral implant if requested by the surgeon.
Lifetime Replacement
Breast implants may come with a lifetime replacement policy to protect you if your implant is defective. In other words, if one of your implants ruptures or deflates, the manufacturer will usually replace it for at any point during your lifetime, even if it is beyond the 10-year mark of the warranty. There are qualifications, however. For example, low-grade capsular contracture (grade I or II on the Baker scale) is not eligible for implant replacement, nor are implants that are still intact but are wrinkled or rippled.
Important Details
As always, it is important to note the details of the language of your warranty. These details tell you whether or not your situation is covered. For example, Mentor® specifies that the 10-year warranty on the implants is from the date of the implant. The Mentor® warranty policy also states that replacement of the contralateral implant must be requested by the surgeon. The financial assistance in your warranty may only be granted for a qualifying rupture, not for capsular contracture or other complications. If you choose to have your implants replaced for aesthetic reasons, such as a size change, it probably will not be covered by your warranty.
Enhanced or Extended Warranties
Enhanced or extended warranties for breast implants can offer additional coverage. These optional warranties can be purchased to protect you further by providing financial assistance for more reasons than just a qualifying rupture (for instance, if you experience surgical complications such as capsular contracture, double capsule, or late seroma complications). In the case of Mentor®, only the enhanced warranty provides financial assistance (up to $2,400) for the replacement of saline implants that deflate within the 10-year time frame.
Older Warranties
Older warranties may still apply to women who already have breast implants. Depending on your warranty date, it may have different provisions than those listed above. As an example, if your warranty offers financial assistance for the replacement of silicone implants, the amount could be lower than the amount listed on newer warranties. Unfortunately, warranties that are older than 10 years are most likely expired.
Dr. Pollack is an experienced breast augmentation surgeon. If you have any questions about breast implants, schedule your consultation to meet with Dr. Pollack one-on-one. Kate can help you with any warranty concerns you may have and will help ensure you get all of the benefits you are entitled to. Call (858) 215-6143 or contact us online today.