Breast Lift vs. Breast Augmentation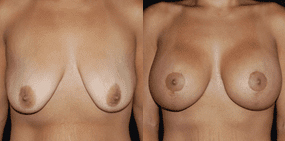 Are you unhappy with the appearance of your breasts, but you're not sure what kind of enhancement you need? Surgical procedures such as a breast augmentation or breast lift can enhance small or sagging breasts and give you the fuller, rounder bust you seek. Based on your needs, you could benefit from either a breast augmentation, breast lift, or a combination of both procedures.
When to Consider a Breast Lift
A breast lift is designed to help women who have sagging breasts. It can also help women whose breasts are misshapen or asymmetrical. If your nipples are sagging and your areolas are stretched, breast lift surgery may be right for you. This procedure is often recommended for women whose breasts have been adversely affected by aging, gravity, weight loss, pregnancy, or breastfeeding. A breast lift can enhance the appearance of your breasts by repositioning them higher on your chest, giving them a firmer and rounder shape, and improving the size and position of the areolas.
When to Consider a Breast Augmentation
A breast augmentation is designed to help women whose breasts are naturally or disproportionately small. It can help women whose breasts are misshapen, asymmetrical, or deflated due to pregnancy, breastfeeding, or weight loss. If you wish your breasts were larger, fuller, rounder, better proportioned, firmer, more symmetrical, or more youthful, breast augmentation may be right for you. Breast augmentation can enhance the appearance of your breasts by increasing their size, improving their shape and definition, making them fuller and firmer, and redefining your figure.
When to Consider Both
Breast lift and breast augmentation surgery are frequently combined into one breast enhancement procedure. When women need correction of multiple breast issues, undergoing both surgeries together can be the perfect solution. With a combined breast lift with augmentation, your breasts that are too small, deflated, saggy, and misshapen can be made youthfully firm, round, full, and balanced.
Dr. Larry H. Pollack is a board-certified plastic surgeon with over 25 years of experience in cosmetic surgery. Schedule your consultation with Dr. Pollack to learn more about breast enhancement surgeries and to determine which techniques are best for you. To book your appointment, call (858) 215-6143 or contact us online today.
Dr. Pollack would be pleased to help you determine the procedure that will best meet your needs. During a consultation at his La Jolla location, Dr. Pollack will assess your health history, your area(s) of concern, and your desires for the procedure to ensure you will be satisfied with your results.
Schedule A Consultation
La Jolla
4510 Executive Drive Suite 201
San Diego, CA 92121
858-215-6143