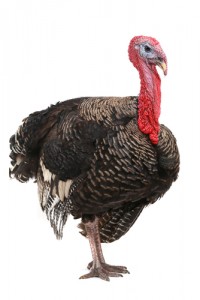 Thanksgiving is nearly upon us, and you know what that means… family, friends, and food, lots and lots of food! Whether you're hosting the feast or traveling to the get-together, make sure that the only "turkey neck" in the room is the one being served at the table.
The dreaded turkey neck is a common condition in many middle-aged adults, and it often has a negative effect on a person's overall appearance. Luckily, Dr. Larry Pollack performs neck lift surgery at his Del Mar practice to effectively restore a youthful appearance to the neck.
What Causes a Turkey Neck to Appear?
Collagen is a naturally occurring protein that is responsible for keeping the skin tight and elastic. However, factors like aging and sun exposure break down this connective tissue, causing the skin to lose elasticity. As the elasticity decreases over time, the skin becomes loose and begins to sag. This is especially apparent in the neck area and can begin to look similar to the wattle of a turkey neck.
What Is a Necklift?
A neck lift is a cosmetic procedure that improves the appearance of the neck by:
Permanently removing excess fat deposits beneath the chin
Excising loose, sagging skin
Tightening the platysma muscle
What Makes a Good Candidate for Neck Lift Surgery?
Although a consultation with Dr. Pollack will be needed to determine whether you are a candidate for a neck lift, many neck lift patients have the following conditions:
Skin that hangs underneath the chin
A "double" chin
A poorly defined jawline
Wrinkles in the neck
To schedule your personal consultation with board-certified plastic surgeon Dr. Larry Pollack, contact Del Mar Plastic Surgery today by calling (888) 600-0683 or filling out our online contact form. Dr. Pollack and his staff look forward to seeing you soon!