The Life of Your Skin: How to Keep Your Skin Vibrant and Youthful As You Get Older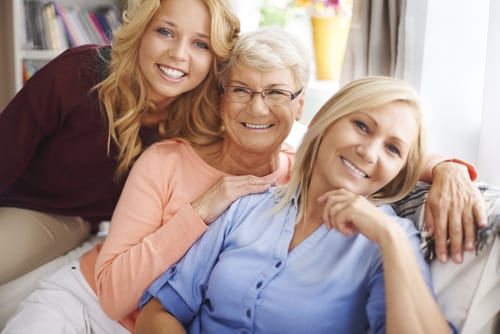 The skin of a newborn looks and feels quite different from the skin of a 90-year-old person. Why is that? Your skin goes through many changes over a lifetime. Here are the changes that your skin goes through from puberty to post-menopause and how you can use skin care treatments to keep your skin healthy and youthful throughout your life.
Your Skin's Lifetime
Pre-Teens and Teens (Puberty and Adolescence): During puberty, the body increases production of the sex hormones testosterone and estrogen. Testosterone increases sebum production, making the skin more vulnerable to acne. Estrogen stimulates collagen and elastin, which keep the skin healthy and soft. If these hormones are imbalanced, you may develop skin problems.
20s – 40s (Reproductive Years): Hormones are more stable now than during puberty but can still become imbalanced because of your diet, lifestyle, pregnancy, and other factors. Some women may find that pregnancy improves the skin while others find that pregnancy leads to skin oiliness and sensitivity. During these years, estrogen levels also decrease, causing the skin to become progressively weaker, drier, and looser.
50s and up (Menopause and Post-Menopause): Menopause stops the ovarian production of estrogen, effectively reducing elastin and collagen and leading to skin laxity and wrinkles. This decrease in estrogen often leads to acne and may also cause other skin conditions. Through the following years, collagen levels continue to deplete, causing the skin to become increasingly wrinkled, dry, rough, and saggy.
Keeping Your Skin Healthy
Keeping your skin healthy through these life transitions will help you now and in the future. By revitalizing your skin and protecting it from damaging elements, you can improve your skin's hydration and make it look and feel more youthful. Your efforts to protect and care for your skin now will lead to better skin quality as you age. At Del Mar Plastic Surgery, we provide a variety of skin care treatments that can be customized for every individual. We will have you meet with our aesthetician, Marci, for an evaluation of your skin and a custom-designed treatment plan. Some of our skin care treatments include:
Lycopene Skin Care: This system includes an acid peel, microdermabrasion, and an at-home treatment system designed to target aging, rehydrate the skin, and improve pigmentation.
Chemical Peels: Chemical peels improve skin tone, texture, pigmentation, fine lines, and scars by removing the surface layers of skin to reveal the healthier skin beneath.
Microdermabrasion: This non-invasive procedure treats acne, hyperpigmentation, skin texture, and photo-aging to reveal a smoother and more radiant complexion.
Facials: Facials provide deep cleansing and exfoliation for facial rejuvenation.
Obagi Blue Peel®: This popular skin treatment can improve fine lines, eliminate hyperpigmentation, and improve skin texture.
Photofacial: The photofacial balances skin tone by removing dead skin cells and correcting sun damage, pigmentation, broken capillaries, and rosacea.
As your skin ages, you can keep it vibrant and youthful by providing it with a customized skin care regimen. To find out what your skin needs and how you can take care of it, schedule your appointment with us at Del Mar Plastic Surgery. Call (858) 450-9100 or contact us online to get in touch with us today.