Tummy Tuck vs Liposuction in Del Mar, San Diego
Tummy Tuck or Liposuction? Which is right for me?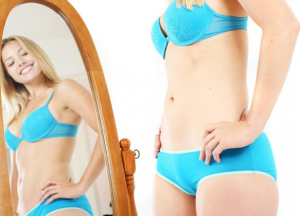 A typical question we deal with at Del Mar Plastic Surgery in San Diego is: What's better for me, liposuction of my tummy or a tummy tuck? There are several things to consider in making the right decision.
Liposuction removes unnecessary fat from an area and is very popular in men and women for the abdomen or tummy. Liposuction can also help to tighten the skin a little. If you don't have a lot of loose or stretchy skin, or a lot of stretch marks, liposuction of the abdominal area can be very effective in creating slim and fit-looking abs.
If you have both too much fat AND skin, you probably need a tummy tuck (abdominoplasty). If the skin hangs and creates a fold over the pubic area, liposuction will not tighten the skin enough, and the result will most likely be disappointing. A tummy tuck not only removes unwanted fat, but also the extra skin, resulting in a very tight and smooth abdomen. Although the scar is much larger with a tummy tuck, it is very low and easily hidden with even the smallest panty or bathing suit bottom.
To see pictures and have a consultation, contact Del Mar Plastic Surgery at 858-450-9100, or email us.
Del Mar Plastic Surgery serves the following communities: San Diego, Encinitas, La Jolla, Oceanside, North County, Del Mar, Carlsbad, Vista, San Marcos, Escondido, Rancho Santa Fe and Poway.