Which Facial Filler Do I Need?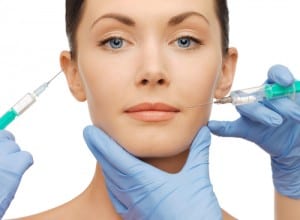 Treatment for facial aging has advanced significantly with the development of facial fillers. Facial fillers are created with various substances and formulas to correct signs of aging on different areas of the face. It is common for patients who come to Del Mar Plastic Surgery to need more than one type of facial filler to treat specific signs of facial aging. The following indicators can guide you toward the appropriate facial filler(s) for your aesthetic needs.
Facial Volume Loss
As the skin of your face ages, the gradual depletion of collagen leads to dermal volume loss. This may cause your face to develop hollows and appear gaunt, worn, tired, and old. Facial volume loss is usually most noticeable in the cheeks, jowls, jawline, and lips as well as under the eyes. With the appropriate filler(s), volume and fullness can be enhanced to create softer, rounder facial contours.
Which Filler?:

JUVÉDERM®, RADIESSE®, Restylane®
Scars and Depressions
Scars, acne scars, and other similar depressions interfere with skin smoothness. Facial fillers can lift sunken scars and depressions by enhancing skin volume. Some fillers can also promote new collagen growth to improve skin health and quality.
Thinning Cheeks
Cheek volume loss can lengthen the whole face and cause you to look older. Facial fillers can add volume to recreate the soft, round cheeks that are found on youthful faces.
Which Filler?:

JUVÉDERM®, Restylane®, RADIESSE®
Nasolabial Folds
The nasolabial folds, also known as smile lines, are bold lines that form between the base of the nostrils and the corners of the mouth. These lines can appear naturally after years of smiling and may become more pronounced as you age. Facial fillers can fill out the nasolabial folds so that the skin around your nose and mouth remains smooth and your smile can stand out without being marred by these wrinkles.
Which Filler?:

JUVÉDERM®, RADIESSE®, Restylane®
Thinning Lips
The gradual loss of collagen also leads to volume loss in the lips. This volume loss continues over time, eventually causing the lips to appear much thinner than they were in your youth. Facial fillers can restore lip plumpness and fullness so that the lips look more youthful.
Which Filler?:

JUVÉDERM®, Restylane®
Lip Lines and Wrinkles
The lips, which are constantly contorted due to activities such as speaking and eating, can develop thin lines and wrinkles over time. Certain types of facial fillers can be used to treat vertical lip lines so that the lips become smooth and soft once again.
Which Filler?:

BELOTERO BALANCE®, Restylane®
Crow's Feet
Crow's feet may be some of the first facial wrinkles to form and are located at the corners of the eyes. Fillers and other injectables such as BOTOX® Cosmetic and XEOMIN® can reduce or eliminate crow's feet.
Which Filler?:

BELOTERO BALANCE®
Hollows Under the Eyes
The skin under the eyes can lose volume as you age, causing your eyes to look sunken or shadowed. Certain facial fillers can be used to improve volume in this delicate area to make you look younger and help your eyes to stand out.
Which Filler?:

Restylane®
If you have signs of facial aging that are not listed here or if you would like to learn more about facial fillers and how they could restore you to a more youthful appearance, schedule your personal consultation with Dr. Larry H. Pollack. Call (858) 450-9100 or complete our online contact form today and we will help you schedule your appointment.