Arm Lift Surgery in San Diego
ARM LIFT SURGERY – BRACHIOPLASTY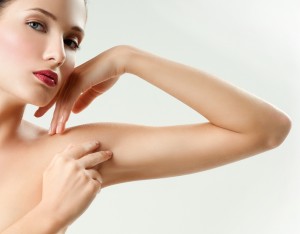 When most people think of plastic surgery, they think of breast enlargement or facelift surgery.  Making a huge leap in the world of cosmetic procedures over the last few years is the arm lift, or "brachioplasty" surgery.   Age, poor skin elasticity, and weight loss will affect the look of our arms.  Especially during the summer months when sleeveless tops are popular, the thought of baring our "bat wings" can be daunting. 
Arm lift surgery is performed to remove the excess skin that hangs from the armpit area to the elbow.  Following major weight loss (such as bariatric surgery), many patients can't seem to get comfortable with their new bodies when arm skin is in the way.  Other good candidates for the procedure may be patients who have lost muscle tone or simply have started to see excess skin hanging from the arm area. 
The arm lift procedure involves a little bit of patience during recovery, since you have your arms in compression sleeves for a few weeks to control swelling.  Activities requiring the use of your arms must be limited during the recovery time.  Cost of arm lift surgery will vary anywhere from $5000-$8000 depending on what region you live in, how extensive the surgery, operating room fees, surgeon experience, etc.
Dr. Pollack performs numerous arm lift procedures in San Diego.  During your consultation he will discuss whether or not the procedure is right for you.  If you are interested in arm lift surgery, make sure to book a consultation with us today, 858-450-9100.
 Kate
Patient Care Coordinator
Del Mar Plastic Surgery