Breast Reduction for Chronic Pain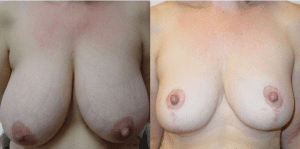 Not all plastic surgery procedures have purely cosmetic benefits. Breast reduction surgery, a plastic surgery procedure that can improve the appearance and reduce the size of the breasts, may also help alleviate chronic pain. If your overly large breasts cause you physical pain and discomfort on a daily basis, breast reduction can ease your symptoms and help you have a more pain- and comfortable life.
Large Breasts and Chronic Pain
Oversized, heavy breasts have been known to cause chronic pain. Most often, this pain occurs as headaches, back pain, neck pain, and shoulder pain. Large breasts are the equivalent of having weights on your chest that measure a few pounds each. If they were only there for a short while, it might not be a bother, but after several hours, they will inevitably begin to weigh down your shoulders, neck, head, and back. Having those weights on your chest every single day without being able to take them off to give yourself a chance to "rest" is what leads to the chronic pain that many women with large breasts endure. In one study of female marathon runners, half of all survey participants whose breasts were an F cup or larger reported a problem of breast pain. Some chronic pain from oversized breasts may be related to exercise, especially due to lack of proper support. In the same study, more than 60 percent of those with breast pain said that it occurred during vigorous exercise.
How Breast Reduction Can Resolve Your Symptoms
Breast reduction removes excess breast tissue so that the breasts appear smaller and better proportioned. In addition to the aesthetic bonuses of this procedure, having the weight of the breasts removed can significantly reduce or even completely resolve chronic pain. It is easier for women to find adequate bra support with smaller breasts, and the reduced mass of breast tissue relieves much of the pressure on the shoulders, back, and neck.
Getting Coverage From Your Insurance Provider
Because breast reduction isn't entirely cosmetic, there is a provision in many insurances plans for partial or full coverage of breast reduction surgery. Insurance companies may pay for the procedure if it can be well-established and documented that overly large breasts are causing you pain and hindering your daily life. If you have chronic pain because of your large breasts, contact your insurance company to find out their requirements for you to be eligible for coverage of breast reduction surgery.
Breast reduction can eliminate chronic pain by reducing the weight, pressure, and size of overly large breasts. To schedule your consultation for this procedure, contact Dr. Pollack online or by phone at (858) 450-9100 .