5 Skin Conditions That Fraxel® Can Fix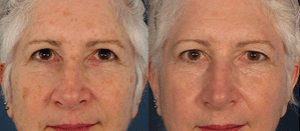 The wide range of skin conditions in this world is perhaps too numerous to count. With so many to treat, scientists have their hands full trying to identify the appropriate treatments for each case. Thankfully, a few common skin conditions can count on Fraxel® for an effective treatment. Fraxel® laser treatment can repair the following skin conditions and help you achieve smooth, youthful, and evenly toned skin.
1. Fine Lines and Wrinkles
Fine lines and wrinkles occur due to the passage of time. Aging leads to displaced fat, depleted collagen, and sagging skin, all of which can create permanent creases, wrinkles, and folds in the skin. Repeated facial expressions over time may also lead to permanent lines such as frown lines and smile lines. Fraxel® applies points of light to deeply penetrate the skin, activating a natural healing process that smooths out wrinkles and tightens the skin. Fraxel® can correct many fine lines and wrinkles, including crow's feet and furrows or lines between the brows.
2. Irregular Texture
Time can destroy the soft, supple skin of youth. Skin roughness or dryness is common in older individuals and can be worsened by environmental factors, sun exposure, stress, and lifestyle factors. Fraxel® can resurface the skin to improve its texture, but it does not exfoliate or scrape the surface skin as other skin resurfacing treatments do. Rather, Fraxel® gently resurfaces your skin from the inside by stimulating the tissues to repair damaged skin cells with fresh, new, healthy, and young skin cells. This leads to a more even skin tone with a softer texture.
3. Surface Scars
Acne scars or other surface scars in the skin leave permanent blemishes. The skin forms scars in reaction to damage or injury, but the indented or raised marks do not match the surrounding skin. Scars left by surgery or acne can be an unpleasant reminder of a difficult experience or time of life. Using Fraxel®, your surgeon can remove the damaged, scarred tissue and help the body to replace the scar tissue with healthy skin cells.
4. Pigmented Lesions
Pigmented lesions are areas of skin that are a different color than the surrounding skin. They include conditions such as age spots (sun spots), melasma, and vascular dyschromia or sun-induced redness. Pigmented lesions are usually caused by sun exposure or hormone fluctuations. Most pigmented lesions are harmless, but they can make you look older than your age, especially if you spend a lot of time out in the sun. Fraxel® can be administered to the face, neck, chest, and hands to get rid of age spots and other pigmented lesions. This treatment can help patients achieve a more even skin tone.
5. Actinic Keratosis
Actinic keratosis (AK) is a common skin condition that looks like a scaly, crusty growth. AKs are considered precancerous, which means that if left untreated, they can develop into skin cancer. This condition is more common in people with lighter skin tones and usually develops on sun-exposed areas. Fraxel® laser treatment can easily and effectively treat actinic keratosis and eliminate this skin condition before it becomes a serious threat to your health.
With the revolutionary Fraxel® repair laser treatment, you can achieve smoother, tighter skin in one single treatment. Fraxel® treatments have minimal downtime or discomfort. It is best to discuss your skin concerns in person with Dr. Pollack to see if you are a candidate for this procedure. To schedule your consultation, please call (858) 450-9100 or contact us online today.