Pop Some Bubbly To Tone Your Skin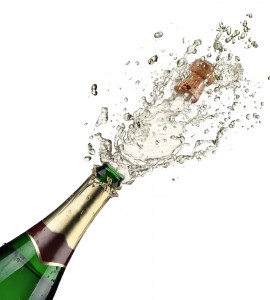 I tell all of my clients that a good toner should be a part of their skin care regime and even though it is another step, it is well worth it! I can definitely notice a difference in my skin when I do not use it. Toner is a great way to remove impurities from the skin, hydrate and help restore the skins natural ph.
It is important to use a toner to make sure that you have no residue left on your skin from your cleanser and to make sure that your makeup has been properly removed. Toners can also hydrate the skin and soften it if you are cleansing with hard water.
A really fun way to incorporate toner into your skin care regime is to use champagne…yes I said champagne! Champagne detoxifies the skin with antioxidants and lightening tartaric acid helps even out skin tone. For those of you with oily skin, its antibacterial properties aid in leaving last years breakouts behind.
After cleansing your skin, apply the champagne with a cotton ball to your face, neck and decollete. Make sure to avoid the eye area to avoid irritation since it has alcohol in it. If you know that you have sensitive skin, make sure to do a patch test under the jawline before applying to the face…
Marci – Aesthetician
Del Mar Plastic Surgery