CoolSculpting® University and the Science Behind Better Service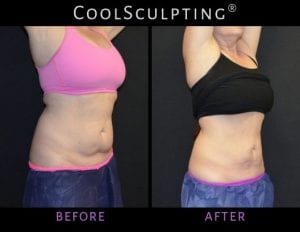 CoolSculpting® is quickly becoming one of the most popular cosmetic procedures available. Cosmetic surgeons and centers all around the country now offer CoolSculpting® to both men and women who are seeking a quick and convenient way to permanently melt away fat.
The ease of CoolSculpting® treatments is a key factor in its popularity; patients feel comfortable with its safety, instant results, and the minimal downtime that is needed. With no need for incisions or other surgical tools, CoolSculpting® is one of the best non-invasive ways to define body contours.
Getting a CoolSculpting® procedure at Dr. Larry Pollack's office comes with a distinct advantage: being taken care of by technicians who went to CoolSculpting® University, an advanced training program to get CoolSculpting® down to a science that all but guarantees exceptional results.
What Is CoolSculpting®?
With CoolSculpting®, surgeons use a controlled cooling device to freeze and get rid of unwanted fat cells. This process is also referred to as cryolipolysis. The fat cells are frozen and crystallized before being naturally processed and eliminated by the body. CoolSculpting® can reduce up to 25% of fat cells in the treatment area without damaging surrounding tissue.
What Is CoolSculpting® University?
CoolSculpting® University is a three-day advanced training program offered by the Allergan Medical Institute, a worldwide leader in medical education and training.
The program immerses technicians into the world of CoolSculpting®. Under the instruction of Allergan experts, technicians learn the science behind CoolSculpting® treatment and how to best perform the procedure.
CoolSculpting® University gives technicians tips for the most effective treatment protocols, how to best target certain areas, and how to prepare patients for the treatment. Hands-on practice is conducted to give technicians an opportunity for in-depth training.
Technicians who graduate from CoolSculpting® University leave with extensive knowledge of the treatment and a superior skill that is not easily matched.
The training is not mandatory but is encouraged for any technician or surgeon who wants to offer CoolSculpting® treatments. All of Dr. Pollack's technicians have been trained in CoolSculpting® through this program.
Am I a Candidate for CoolSculpting®?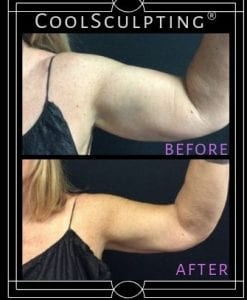 Treatments target the abdomen, thighs, arms, or other areas where fat tends to accumulate. People who have visible bulges or who struggle with unwanted fat despite a healthy diet and regular exercise are good candidates for the procedure.
Anyone considering CoolSculpting® should be in good general health and within 15 pounds of their target weight. CoolSculpting® is not a weight-loss procedure, and patients should have realistic expectations about the treatment.
So What Can I Expect From CoolSculpting®?
Depending on the areas treated, a CoolSculpting® treatment can take anywhere from an hour to a few hours. Patients may feel some pressure or deep tugging or stinging as the treatment occurs, along with an intense cold that quickly fades.
Since it uses no incisions or needles, there is no downtime necessary after CoolSculpting®. Patients should see improvement in the treatment sites within a few days and a long-term reduction in fat.
At Dr. Pollack's office, patients can expect to receive exceptional treatment from specially trained technicians. Thanks to the CoolSculpting® University curriculum, patients receive expert care and careful, effective treatments.
Interested in learning more? Schedule a consultation with Dr. Larry Pollack soon by calling our office at 858-450-9100 .