Spray Tanning in San Diego
Get Your Tan On… Safely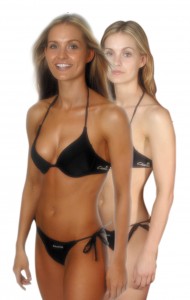 In San Diego the sun is shining and most weekend activities revolve around the outdoors.  Going to the beach, hiking, bicycling, or enjoying a picnic with family usually includes transforming our wardrobe into a swimsuit or shorts.  I think everyone would agree that they feel a little bit better when they have a nice tan as opposed to the pale skin typically covered during the winter.  Exposing ourselves to tanning rays in any form (sun or artificial) is simply not safe or healthy, despite how it makes us feel!
Over the last several years, the self-tanning industry has been booming.  Sunless tanning can be performed at home or through a professional salon.  The most common complaints with self tanners include streaking and an unwanted "orange" hue.   After much research, our office staff chose an airbrush tanning system and solution manufactured by Sun Fx, an all natural, odor formula.  The color is a beautiful golden brown and it is personally applied by a trained technician to avoid unevenness.  All skin types can enjoy the Sun Fx spray tan and its lasting effects.  The tan will last about 7 days!
Get out and enjoy wearing shorts with a beautiful tan….Get a spray tan at Del Mar Plastic Surgery in San Diego today!  Contact us at 858-450-9100 with any questions or to schedule your appointment.