San Diego Skin Care For Men
Mens Skin Care In San Diego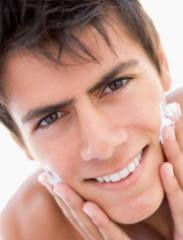 At Del Mar Plastic Surgery we have always encouraged men to take care of their skin. Not only will regular skin care slow down the signs of aging and protect the skin from environmental damage, but it feels good too.
My skin care company, Lycopene Skin Care, has developed a unique skin care product designed specifically for men called Post Shave Balm. Used daily after shaving, it deeply hydrates and restores skin health. It is currently the only cosmetic skin care product in the US to use SYRICALM (TM) CLR, a patented botanical complex designed to reduce redness and calm irritated skin. The Post Shave Balm also contains Lycopene, one of the strongest anti-oxidants, and a combination of other healing botanicals, including Green Tea Extract, Grape Seed Extract, Glabridin, Jojoba Seed Oil, and Chamomile Extract.  Also, a blend of High and Low Molecular weight Hyaluronic Acids locks in moisture.
Lycopene Skin Care Post Shave Balm is available at Del Mar Plastic Surgery or online at http://www.lycopeneskincare.com/. And by the way, it is also great for women after shaving or waxing!