Skin Cancer Prevention in San Diego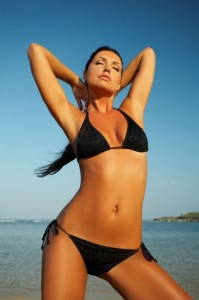 The Summer months will be filled with socializing, warm weather and time in the sun. Most of us remember to use sunscreen liberally on our face, but gloss over other body parts. One of the most exposed area's all year long is our chest. We need to make it as important as our face to keep the skin healthy. Some things to think about…
Remember your V-neck. You know to apply SPF to your face, arms and legs, but do not forget the exposed skin on your chest and breasts, such as the V or visable area in lower cut tops. The skin there is delicate and can burn in just a few minutes.
Wear sunscreen under your bikini. Even a lined bathing suit only has an SPF of about 6. This means UV rays can penetrate the thin fabric and result in skin damage.
Scan your breasts. The torso is a common place for skin cancer in women, so every month, give your breasts the once-over and look for any new or changing spots, especially under your breasts and in the cleavage folds.
Please contact Del Mar Plastic Surgery with any questions or concerns.
Marci