View Your Results Before They Happen!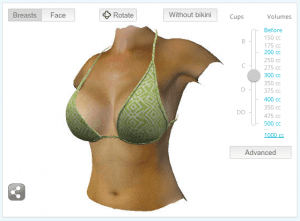 For many women and men, what keeps them from undergoing plastic surgery is the fear of the unknown: not knowing how their results will turn out. Discussing how you can transform your body in theory doesn't always set the mind at ease. "What size implant would be most proportionate to my body frame?" "Should I go a little bigger than I thought originally?" These are common questions that are difficult for many practices to answer, which often prevents people from getting the procedure they desire to help them feel more confident.
At Del Mar Plastic Surgery, we aim to ease the fear and anxiety of all of our patients. Whether it's through open communication or helping patients visualize their potential results, patient comfort is our number one priority. This is why we use Crisalix technology in our office.
What Is Crisalix Technology?
Crisalix is state-of-the-art imaging technology that creates a 3D view of your body that can be manipulated to reflect different surgical techniques. This allows you to view your possible results before you undergo surgery. The system can simulate a variety of plastic surgery procedures including breast augmentation and BOTOX® Cosmetic injections. It is utilized by Dr. Pollack during your consultation to help you make the most informed decisions possible about your plastic surgery procedure.
How Does It Work?
Three 2D photos taken from various angles are uploaded into the system. The computer uses these images to create a 3D image of your body or face. The program then allows Dr. Pollack to manipulate the 3D image by adjusting things such as implant size and facial lines. This helps you better visualize your possible results with various options, which helps you and Dr. Pollack make the right choices to achieve your desired results.
Choose Del Mar Plastic Surgery
Don't put your results up to chance. At Del Mar Plastic Surgery, we use Crisalix imaging technology to deliver the best results possible for our patients. This technology allows us to engage in more thorough discussions with our patients, which allows us to better understand their plastic surgery goals. It is our goal to provide our patients with confidence in their choices and in their bodies.

If you are considering breast augmentation surgery, schedule your consultation today. Come in and see how amazing you can look with your new enhancement. With today's technology, fear of the unknown is a thing of the past. Contact our office to schedule your appointment by calling (858) 450-9100 , or fill out our online contact form here for more information.