What Is a HydraFacial® Treatment and Why Are They So Popular?
2 Min Read
What is a non-invasive facial treatment designed perfectly for every skin type?

Your answer may be the HydraFacial®.

Fine lines, wrinkles, loss of elasticity, uneven skin tones, texture irregularities, brown spots, and oily congested skin are all issues that a HydraFacial® can address in a matter of moments, leaving you with exfoliated and relaxed skin surfaces.

Using cutting edge technology, a single session with Dr. Pollack's aesthetician, Marci,
will purify, exfoliate, and infuse your skin.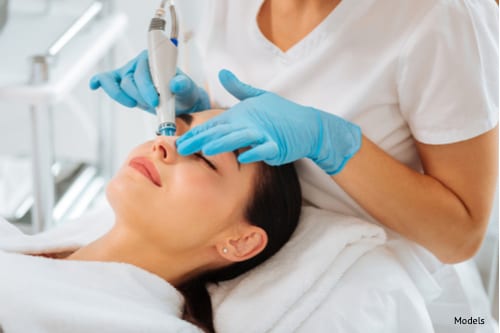 What Happens During the HydraFacial®?
The HydraFacial® has a unique chain of protocols that allows the treatment to be highly customizable to your needs. This non-invasive, non-laser skin resurfacing treatment provides an array of benefits for every personalized session.

This treatment is performed in three simple steps:

Step 1: Detox, Cleanse, and Exfoliation
Lymphatic drainage increases lymphatic system circulation. Blood flow to the area increases oxygen to support the cells and support lymph restoration and hydration. This suction adds tone and firmness to the skin while gently exfoliating dead skin cells to reveal your healthy, new skin.
Step 2: Brightening Agent, and Extraction
Soft application of glycolic and salicylic solutions helps loosen debris and impurities stuck in your pores, readying the pores for gentle extraction. This step is perfect for removing blackheads and drawing out congested areas.

Patients can also opt to apply natural extracts to the serum.
Step 3: Hydration and Rejuvenation
Peptides, multi-peptides, antioxidants, and hyaluronic acid blend perfectly to rehydrate skin and lessen wrinkles, pores, and fine lines.
Why Do People Love HydraFacials®?
No Downtime
There is no time like the present, and with a HydraFacial®, you can see your results immediately. Our treatments are efficient, require zero down-time, and take as little as 30 minutes.

You can go back to your daily makeup routine and return to your normal activities the moment the treatment is over.
Relatively Low Cost
HydraFacial® treatments are relatively low in cost but high in value, especially in comparison to more invasive dermatology treatments such as laser skin resurfacing or injectables.

If you are looking for something a little more thorough than an ordinary facial and a little less invasive than laser or injection treatments, HydraFacial® may be perfect for you.
Personalized Treatments
Each treatment perfectly tailors to your needs and skin type. Whether it is extra vitamins, natural extracts, different strengths of glycolic-salicylic cleansers, your skin gets what it needs.
Want to Find Out More About HydraFacial® Treatments?
To learn more about Dr. Pollack's HydraFacial® Treatments, please fill out our contact form or call at (858)215-6143.