Body fat: a common annoyance everyone struggles with no matter their body size or shape. We circle our lives around battling the bulges that seem to pop up in the most inconvenient places. From fad diets to gym memberships and "magic" weight loss pills – the ideas are thrown at us every day for a solution.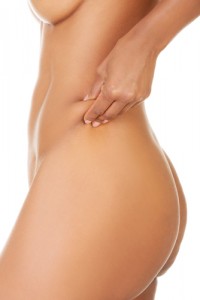 Even though diet and exercise can help to get rid of excess fat and body weight, there are some areas that never seem to improve even with constant work. But did you know these excess fatty areas, such as the abdomen and hips, could be beneficial for those who lack volume and shape in other areas? You probably thought you would never hear these words, but fat can be a good thing! How is this even possible? A procedure known as fat transfer surgery requires you to have excess fat to improve other areas of the body.
What Is Fat Transfer Surgery?
Dr. Larry Pollack performs fat transfer surgery using liposuction to remove unwanted fat from the body. Patients often choose to take fat from stubborn areas such as the abdomen, hips, and thighs. Dr. Pollack then purifies the fat and strategically injects it to create more shapely or rejuvenated contours in an area lacking volume.
Fat Transfer for Facial Rejuvenation
Fat transfer can provide youthful volume to the face and eliminate wrinkles. Typical areas people find they have lost volume in the face include the tear troughs, cheeks, and lips.
Fat Transfer for Butt Augmentation
A common procedure known as the "Brazilian Butt Lift" is performed using the fat transfer technique to create a more lifted, fuller backside. For this procedure, Dr. Pollack removes fat from the abdomen, thighs, and/or waist and transfers it to the buttocks.
Fat Transfer for Breast Augmentation
Most women find that fat transfer surgery can be an alternative option to traditional breast augmentation surgery, which requires the placement of implants. There are risks with implant surgery that fat transfer is not associated with, such as capsular contracture, rupture, and the need for replacement. In addition to minimal risks, patients who undergo fat transfer surgery experience less recovery time, can go back to normal activities more quickly, and enjoy their results for many years to come. However, while transferring fat to the breasts is a good option for some, it is important for patients to realize that it only provides an increase of about a half cup to one cup in volume.
If you are interested in learning more about fat transfer surgery, board-certified plastic surgeon Dr. Larry Pollack can help you achieve natural-looking, satisfying results. We encourage you to contact Del Mar Plastic Surgery by calling (858) 450-9100 or by filling out our online consultation form to learn about your options. Dr. Pollack and our experienced staff look forward to meeting with you!