Acne Treatment and Prevention In San Diego
How To Treat Your Skin When You Have Pimples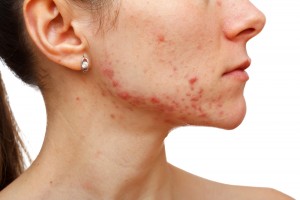 As adults, we tend to think that we are past the age when will have a lot of breakouts but as many as one in two women will have acne at some point later in their life. But how do you treat those blackheads and pimples without exacerbating your aging skin concerns such as, fine lines, dryness and age spots?
Make sure that when you cleanse your skin that you are not scrubbing it to oblivion. A blackhead or whitehead is simply a clogged pore. Once you have pinkness or inflammation, it means the lesion has ruptured under the skin and rough treatment can cause this reaction. It also means that when you do cleanse, use a cleanser that is not harsh on the skin and never do your own extractions. Being overzealous can aggravate acne and will spread bacteria and cause more breakouts.
Use a gentle cleanser and when you have the occasional breakouts, alternate with either a salicylic or benzoyl peroxide wash. Salicylic acid will loosen up the dead skin in pores so sebum doesn't pile up and clog them. Like aspirin, a chemical cousin, salicylic acid has an anti-inflammatory property that can hinder breakouts. Benzoyl peroxide kills the bacteria behind your breakouts and can have a slight peeling effect which also helps keeps pores clear.
Sometimes, something as simple as a new cleanser can be enough to remedy this issue. Try one for two-to-three weeks to see how your skin reacts before adding any other acne treatments. You want to see your skin returning to normal. If it is red and peeling, then cut back on acne remedies or use the products less frequently.
While I like acne spot treatments for the occasional papule or pustule appearance, if your acne is more than just a few, then you should opt for an all-over treatment. If you are only spot treating, you are not addressing what is brewing underneath the surface of the skin. For example, if your jawline is the problem, apply the salicylic or benzoyl peroxide cleanser in that area.
If the problem seems to be a persistent one, you may want to upgrade to a prescription treatment such as Retin-A. It helps prevent acne, decreases post-acne spots and minimizes wrinkles.  While Retin-A should be applied directly to cleansed skin, if you are experiencing any redness or peeling, try just using it every other day and apply a thin layer of moisturizer first. The Retin-A will still work.
Hydrated skin can better handle acne treatments and as we know, nothing highlights our wrinkles better than dry/dehydrated skin, so never skip your moisturizer/SPF.
Marci – Del Mar Plastic Surgery
Licensed Aesthetician