Top 5 Body Contouring Options in San Diego
5 Minute Read: 
When it comes to getting the perfect beach body or looking just right, many people work hard to reach their ideal appearance. For some, diet and exercise are enough. For others, more extensive help is needed. 
Fortunately, Dr. Pollack offers several body contouring options to help patients meet their aesthetic goals.
Body contouring procedures help sculpt and remodel a patient's silhouette by removing, tightening, or relocating excess fat, skin, or other tissues. They can dramatically affect a patient's confidence and—therefore—their quality of life. 
However, before scheduling a cosmetic surgery, there are a few things patients should consider.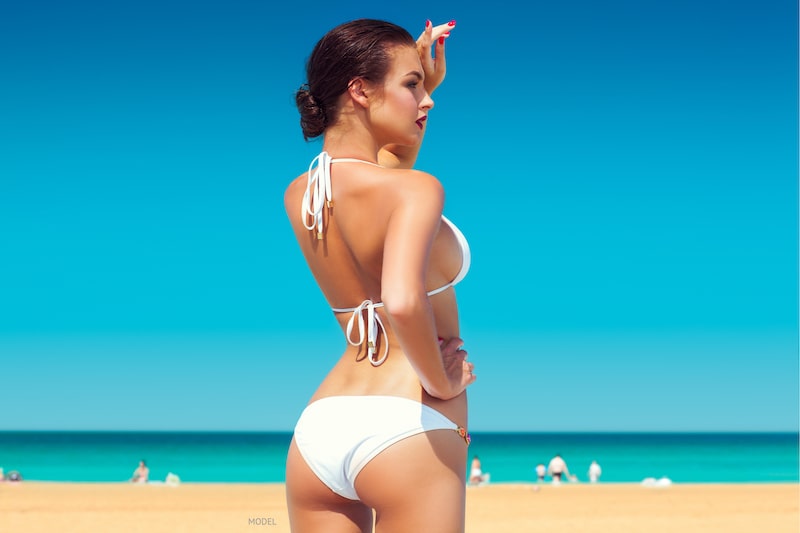 What Are Your Aesthetic Goals?
What Are My Body Contouring Options in San Diego?
How Long Is the Recovery Period After Body Contouring in San Diego?
What Are Your Aesthetic Goals?
Before settling on a specific procedure, consider your ideal aesthetic results and be sure they are realistic. The most satisfying results come from those with realistic expectations.
Setting an end goal can help you and your surgeon work together to find the procedures that best match your needs. 
For some patients, their goals are simple, and the correct surgery for them is rather obvious. 
For instance, if your concern is sagging skin on the upper arms, an arm lift is probably the only real option to treat that condition. On the other hand, a condition like excess abdominal fat may have several potential treatments. 
Schedule a consultation with Dr. Pollack to determine which treatment option(s) is ideal for you.
What Are My Body Contouring Options in San Diego?
Dr. Pollack offers several body contouring procedures — both surgical and non-surgical — that can be tailored and mixed and matched to meet your needs and goals. 
Each of these treatments addresses aesthetic concerns in one or more areas of the body.
Arm Lift
Arm lift surgery removes unwanted fat, sagging skin, or other excess tissues from the upper arms. This is usually used to treat sagging arms or so-called "bat wings" that form after significant weight loss or aging. 
Patients may want to consider arm lift surgery if diet and exercise have failed to provide ideal upper arm contours. Patients should be at a stable weight before undergoing this operation.
Tummy Tuck
Tummy tuck surgery treats a series of conditions in the abdominal area. These include: 
Loose or excess skin on the stomach

Unwanted

fat deposits

(usually via liposuction)

Loose or lax abdominal muscles (usually caused by pregnancy or weight gain)
This surgery is usually combined with liposuction and is a primary aspect of the Mommy Makeover procedure.
Patients dealing with multiple aesthetic conditions associated with the abdomen may need to consider tummy tuck surgery. The tummy tuck procedure is the go-to option for many of the most common aesthetic concerns.
Liposuction
Liposuction treats excess fat deposits across the abdomen, hips, thighs, buttocks, lower back, thighs, knees, ankles, arms, and neck. 
For patients struggling to get rid of those remaining fat pockets, liposuction is ideal. 
It should be noted that liposuction is not a weight-loss procedure but intended to contour and sculpt the body. Patients should not expect Dr. Pollack to suggest liposuction to remove large amounts of weight. 
While liposuction procedures remove fat, it is rare for patients to lose more than a few pounds, even under ideal conditions. It is often not safe to remove more than five liters of fat during a single treatment. This often translates to roughly 10 pounds or one dress size.
Liposuction is ideal for people with minor imperfections that can be treated by removing small fat deposits.
Liposuction is one of the most common body contouring techniques and is most commonly performed in combination with other plastic surgeries.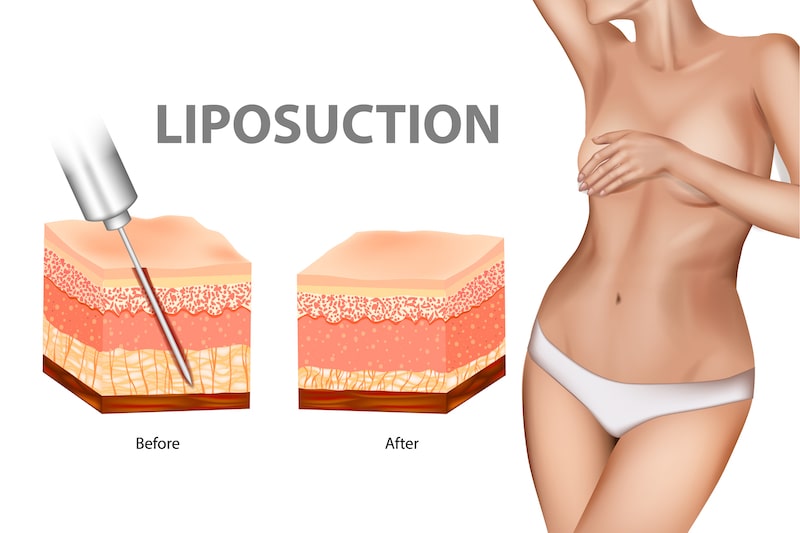 Brazilian Butt Lift
The Brazillian Butt Lift (BBL)—which is also referred to as butt enhancement or butt augmentation—is used to enhance the size and shape of the buttocks. 
Dr. Pollack performs the Brazillian Butt Lift through a process known as fat transfer. This process involves moving healthy fat cells from elsewhere in the body (areas where the excess fat is unwanted) to the buttocks. 
This technique creates more natural-looking buttocks than more traditional implant-based butt augmentation techniques. 
Fat grafting to the butt combines the advantages of liposuction and butt enhancement into a single procedure. 
Fat transfer provides natural butt augmentation for many years.
The transferred fat will be susceptible to weight fluctuations and the natural aging process. 
CoolSculpting®
CoolSculpting® is a non-surgical body contouring procedure that removes unwanted fat without the need for surgical incisions (as required by liposuction). This procedure cannot remove fat as quickly or in as many areas as liposuction; however, CoolSculpting® can provide similar results to liposuction when treating fat deposits in the abdomen. 
CoolSculpting® works by freezing fat cells below the skin. This causes the fat cells to die before they get flushed out of the body over the following few weeks. Several treatments are usually required to eliminate unwanted deposits. 
The main advantage of CoolSculpting® over liposuction is the lack of recovery time. After CoolSculpting®, patients can return to work and their daily routine immediately. 
Non-surgical fat removal does not have the side effects of anesthesia or the risk of surgical complications found with liposuction.
CoolSculpting® treatments are an ideal option to remove fat safely without surgery.
How Long Is the Recovery Period After Body Contouring in San Diego?
Depending on the chosen procedure, the recovery period after body contouring can range from a few minutes to several weeks. 
The more extensive the body contouring procedure, the longer the recovery period will usually be. 
In general, patients should expect to take one to six weeks off work after a surgical body contouring procedure—depending on the combination of procedures and the type of job. 
Most patients can resume activities within four to eight weeks after surgery. 
Do You Want to Learn More About Body Contouring in San Diego?
If you want to learn more about body contouring in San Diego, please contact us on our website or call at 858-450-9100 . We will be happy to answer any questions you have.